iPad Cited in Huge Spike in New App Store Application Development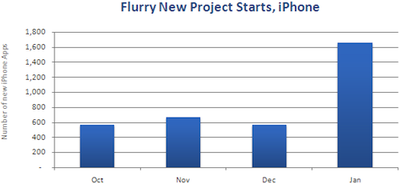 Mobile analytics firm Flurry today released a
report
revealing trends seen in its user data for the month of January. Among the more interesting developments discussed in the report was a nearly three-fold surge of new App Store applications registered with Flurry to integrate its analytics into the applications. Such increases have typically been seen in advance of new device launches, and thus Flurry hypothesizes that the growth was the result of excitement surrounding Apple's iPad despite the fact that the device was not formally introduced until the very end of the month.
Developers integrating Flurry analytics into iPhone OS applications in January increased by nearly three times over December. This represents the single largest spike in Flurry history, with over 1,600 new iPhone OS application starts for January. Historically, Flurry has measured surges in new application starts within its system in anticipation of new device launches, including for the Motorola Droid and iPhone 3GS. As such, we hypothesize that excitement generated by Apple's iPad event in January is driving this growth. For developers who get a jump on customizing their applications for the iPad, there may be an opportunity to stand out early on, and earn more downloads.
Similar data for the Android platform has demonstrated steady growth ramping up over the past six months, with only a 25% jump in new project starts between December and January, substantially lower than that seen for iPhone OS. Consequently, the proportion of new starts dedicated to iPhone OS applications compared to Android rose to its highest level since last July.