Apple Rolls Out 'Countdown to 10 Billion Songs' Promotion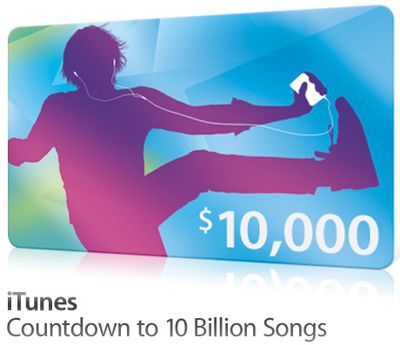 Apple today unveiled a
"Countdown to 10 Billion Songs"
promotion via the
iTunes Store
, offering the contest winner a prize of a $10,000 iTunes gift card. A counter on the main iTunes Store page and Apple's home page currently displays in excess of 9.8 billion downloads.
According to the official contest rules, participants may make up to 25 entries per day either by purchasing/downloading songs from the iTunes Store or by filling out an entry form on Apple's web site. The contest begins today and ends once the 10-billion-song milestone is reached.
The prize will be awarded for the entry (either through a song download or through the non-purchase online entry) sent immediately following the download of the 9,999,999,999th song. The potential winner will be determined by the order of the entries received. In the event that more than one entrant would be a winner based on the simultaneous timing of entries, one entrant will be randomly selected from those entrants as the winner. Each entrants chances of winning are dependent upon the number of eligible entries received.
Apple has periodically offered similar contests in the past, such as its One Billion Song contest in 2006 and a One Billion App contest last year.