Apple Launches '1 Billion App Countdown' Promotion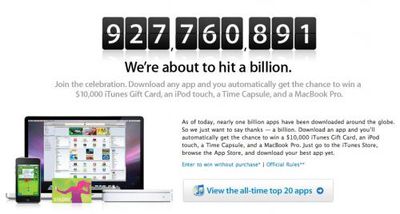 Apple today launched a
1 Billion App Countdown
promotion, offering the opportunity for users to enter to win a package of prizes valued at over $13,000.
As of today, nearly one billion apps have been downloaded around the globe. So we just want to say thanks - a billion. Download an app and you'll automatically get the chance to win a $10,000 iTunes Gift Card, an iPod touch, a Time Capsule, and a MacBook Pro. Just go to the iTunes Store, browse the App Store, and download your best app yet.
Entries are limited to users 13 years and older from participating countries. Users are limited to 25 entries per day, and the contest closes when the billionth app is downloaded.
Apple offered similar promotions to mark 100 million (2004) and 1 billion (2006) iTunes song downloads.