Unreleased MacBook Pro 6,1 and 6,2 Referenced in Mac OS X 10.6.2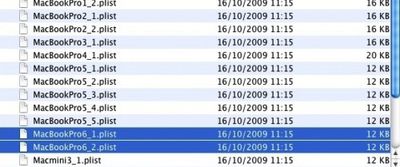 Applesfera reports
on the discovery of support files for unreleased MacBook Pros in the latest Mac OS X 10.6.2 developer builds. The 10C531
build
was first seeded to developers just a few days ago, and appears to include references to MacBook Pro 6,1 and MacBook Pro 6,2 models that have not yet been released.
Meanwhile, the latest shipping MacBook Pros carry a 5,x model number designation. The MacBook Pros were last updated in June 2009 and have not been rumored to see any imminent updates. Previous reports, however, have suggested that suitable Nehalem (Core i7) based processors could be feasible for MacBook Pros by late 2009/early 2010.
Most expect that Apple's next major notebook update will include these next-generation processors that have already found their way into the Mac Pro and iMac product lines. Traditionally, the MacBook Pro and iMac lines have been very closely linked in capabilities due to their similarly slim designs.