Apple Receives Patent for Touch-Sensitive Bezel for Portable Devices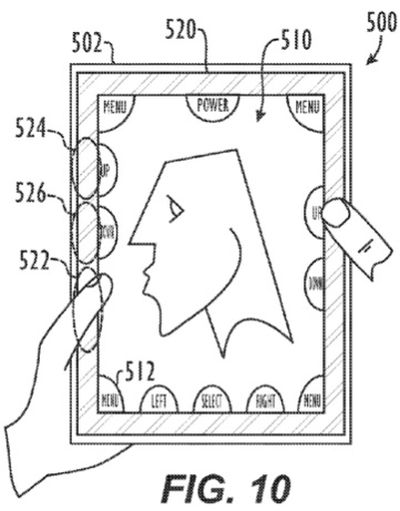 Patently Apple reported yesterday
that Apple has been granted a
patent
regarding the use of touch-sensitive bezels in electronic devices, primarily focused on portable devices. While the content of the patent is not new, having been
previously disclosed
with the publication of the initial patent application in October 2006, the technology has gained renewed interest as the granting of the patent and the introduction of Apple's new iPad tablet device have provided additional perspective not available at the earlier time.
According to the patent documentation, the invention describes the use of a touch-sensitive bezel, offering discrete areas on the bezel for controlling the device. Visual cues displayed on the screen next to the touch-sensitive areas would instruct the user on each area's function. In addition, the patent describes the integration of an orientation sensor such as an accelerometer that would allow the device to adjust both the locations of touch sensitivity for certain functions and the corresponding visual cues.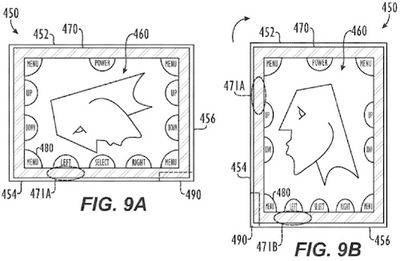 Orientation sensing for device offering touch-sensitive bezel
At the time of the original patent application's publication, neither the iPhone nor the iPod touch had been introduced, and the application's included images offered an intriguing glance at what a "Video iPod" might look like. With last week's introduction of the iPad, which offers a relatively substantial bezel around all four sides of the display, additional opportunities for deployment of the technology have become possible.
It remains unclear, however, exactly what benefit a touch-sensitive bezel would offer to an iPhone, iPod touch or iPad user given the multi-touch capabilities of those devices' screens. The ability to control certain functions of the device without obscuring the device's screen would appear to be a benefit at first glance, but the need for visual cues on the display to identify the controls would appear to mitigate that benefit.
The bezel is not the only component of the iPhone that has been rumored for touch sensitivity. A report several weeks ago suggested that Apple may be planning to offer a touch-sensitive casing in the next-generation iPhone that would allow users to control the device by touching the rear of the iPhone. While little evidence for the claim beyond an anonymous source was offered, previous patent applications from Apple have also pointed to its interest in "back-side touch".