Video iPod Patent Pictures and Touch Sensitive Bezel [Update]
Hrmpf reports on a particularly revealing patent application from Apple that was published on October 26, 2006.
The name of the patent application is "Electronic Device Having Display and Surrounding Touch Sensitive Bezel for User Interface and Control". The patent describes and depicts a full-screen touch sensitive iPod very similar to the various Video iPod Mockups that have been floating around the web. The application was filed in June of 2006.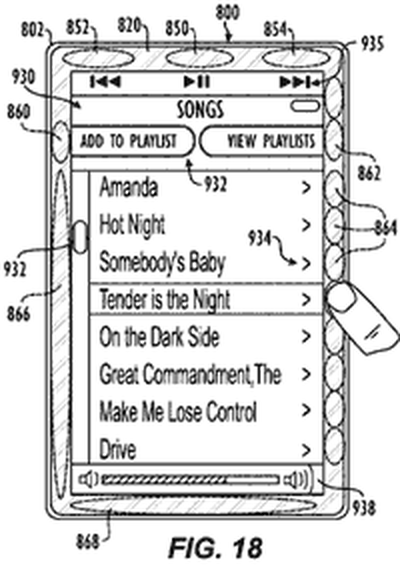 The focus of the patent is the incorporation of a touch-sensitive bezel (edge of screen) that can adapt to the screen contents to provide an input method for the user. Hrmpf suggests that the use of this non-screen area would eliminate many of the "smudge" and "scratch" concerns for a full-screen touch iPod.
An electronic device has a display and has a touch sensitive bezel surrounding the display. Areas on the bezel are designated for controls used to operate the electronic device. Visual guides corresponding to the controls are displayed on the display adjacent the areas of the bezel designated for the controls.
The diagrams included clearly depict what appears to be a full-screen Video iPod. The rumors of a full-screen Video iPod have been ongoing for some time, but picked up steam in February 2006 with claims that the full screen Video iPod would arrive in the coming months. Later reports indicated a delay with some recent reports of a late 2006/early 2007 release.
Numerous other patents have described possible touch-interface methods, but this is the first patent application to depict a full-screen iPod so clearly. It also could represent the "None-Touch" iPod interface that was described in July.
Update: There seems to be some misinterpretation of the picture. The circles in the bezel do not represent "buttons". The entire bezel would be a smooth surface that would be touch sensitive. A touch-sensitive Bezel iPod would still look like this mockup.