Apple Tablet Design Reportedly Akin to Flattened First-Generation iPhone
AppleInsider reports that it has received information from sources detailing the appearance of Apple's much-rumored tablet device, noting that it is reminiscent of a "first-generation iPhone that's met its match with a rolling pin."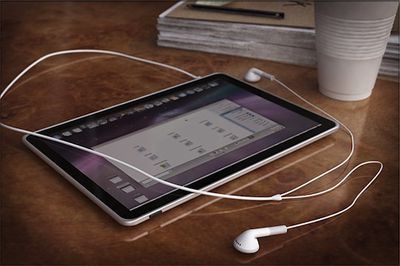 Concept rendering said to closely resemble actual Apple tablet
According to the report, the device looks remarkably similar to a concept rendering published early last year but with even more similarities to the iPhone beyond those depicted in the rendering, offering buttons and other features nearly identical to the iPhone 3GS.
Nestled in an aluminum shell that leverages the Apple's expertise in unibody construction but thinner proportionality than the original iPhone, the tablet reportedly sports all of the same buttons found on the handset, right down to its iconic home button -- which, like the volume toggle, is missing from the rendering.
Similarly, the tablet is said to sport all the same in/out connectivity as the current iPhone 3GS, including a 3.5-mm stereo headphone jack, built-in speaker grills, a microphone, GPS, 3G connectivity and a 30-pin dock connector. Like the rendering, its 10-inch display is framed by a black border that bleeds into its wrap-around aluminum enclosure.
Such proclaimed similarity to the iPhone 3GS may lend credibility to recently-published images claimed to be the tablet's front bezel. The images had been thought extremely suspect, in part due to their near exact likeness to the iPhone 3GS.
Other sources cited in today's report also claim that prototypes of the tablet have offered components making it compatible with CDMA wireless networks such as Verizon's, which would back up increasing claims, including some as recently as today, that Apple and Verizon have partnered on the new device. AppleInsider is careful to note, however, that it has been unable to confirm CDMA compatibility for the final shipping product.