Apple and Overall PC Industry Post Solid Shipment Gains in Fourth Quarter 2009
Research firms Gartner and IDC yesterday released their preliminary quarterly personal computer shipment data, offering up a picture of market performance during the fourth quarter of 2009 and for the year. As usual, the two firms' data sets contain some differences, but both reveal a strong rebound for the PC industry, with worldwide shipments growing between 15 and 22% and U.S. shipments growing approximately 25% between the fourth quarters of 2008 and 2009.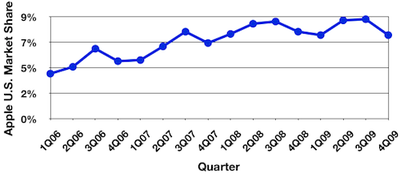 Apple's U.S. Market Share Trend: 1Q06-4Q09 (Gartner)
According to
Gartner's report
, Apple slipped behind Toshiba into fifth place in the U.S. market in grabbing a 7.5% share, down 0.2% over the year-ago quarter. The number is also down from an 8.8% share in the
previous quarter
, although Apple typically sees a decline in market share in the fourth quarter of each year as it comes off of the strength of its third quarters buoyed by educational sales.


Gartner's Preliminary U.S. PC Vendor Unit Shipment Estimates for 4Q09 (Thousands of Units)
Apple's U.S. unit growth for the quarter was 23.3% year-over-year, trailing only slightly the U.S. industry growth of 26.5%, but fell victim to astounding 70.7% growth from Toshiba that propelled the Japanese computer maker past Apple for the quarter.
IDC's report paints a slightly different picture, showing Apple gaining market share in the U.S. as it slightly outpaced overall industry performance. According to IDC, Apple's U.S. shipments grew 31% year-over-year for the fourth quarter, ahead of the 24% growth of the overall industry and allowing Apple to move from 7.0% market share in the fourth quarter of 2008 to 7.4% in the fourth quarter of 2009. As in Gartner's study, however, Apple was still leapfrogged by Toshiba's 71.5% growth, pushing the Mac maker into fifth place in the U.S. market.
For the year, IDC's numbers show Apple edging out Toshiba for the fourth position in the U.S. market, claiming 8.0% market share on over 5.5 million computers shipped. That number was up slightly from 7.9% for calendar year 2008, and came on 8.2% unit growth. As usual, neither Gartner nor IDC covered Apple's worldwide performance for the fourth quarter or the full year, as the company does not rank in the top 5 by global shipments.