Apple Continues to Demonstrate Sales Growth in Third Quarter 2009
Research firms Gartner and IDC today both released preliminary reports detailing U.S. and worldwide PC shipments for the third quarter of 2009, revealing modest growth by Apple amid an uncertain market.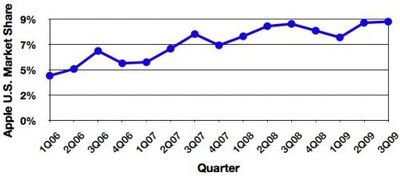 Apple's U.S. Market Share Trend: 1Q06-3Q09 (Gartner)
According to
Gartner's report
, Apple once again maintained its fourth place ranking for U.S. shipments with an 8.8% market share on unit growth of 6.8% over the year-ago quarter. Apple's market share was up slightly from the
previous quarter's
8.7% share and its 8.6% share in the year-ago quarter.

Gartner's Preliminary U.S. PC Vendor Unit Shipment Estimates for 3Q09 (Thousands of Units)
Overall, Gartner saw a 3.9% increase in U.S. PC shipments over the year-ago quarter, although average selling prices for the quarter dropped approximately 20% compared to a year ago. As was the case last quarter, a significant drop by market share leader Dell was offset by continuing tremendous growth from Acer and Toshiba.
IDC's report shows Apple regaining the fourth place position that it ceded to Toshiba last quarter with a U.S. market share of 9.4% on unit sales growth of 11.8%, an even healthier gain than that reported by Gartner. IDC also saw a much larger decline from Dell, holding growth in the overall U.S. market versus the third quarter of 2008 to 2.5% and allowing HP to claim the top spot in U.S. sales.