CES Begins: Boxee Box by D-Link and More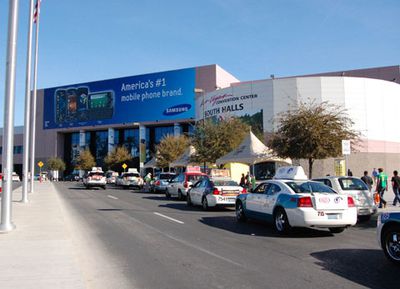 Things are picking up at the Las Vegas Convention Center
CES kicks off today in Las Vegas with multiple press events and the conference's first keynote speech, given by Microsoft's Steve Ballmer, who
may or may not introduce
a tablet device this evening.
D-Link and Boxee got off to an early start yesterday, officially announcing the Boxee Box. The new device is a stand-alone accessory that provides streamed content directly to a connected TV with no need for a computer intermediary. It will ship in the first half of 2010 and cost under $200. The Boxee Box is an alternative to using the free Boxee software that can be installed on Apple TV devices as well as computers running Macintosh, Windows, or Linux operating systems. Boxee has also made available an app to turn an iPhone or iPod touch into a wireless remote for Boxee software installed on a computer connected to a home media network.

The Boxee software install for Apple TV has been popular amongst our readers, as it brings access to a much broader variety of content than is accessible through the Apple TV's standard interface, and the launch of Boxee's own hardware box might be appealing to those who don't want to go through the trouble of the unsupported installation process.
Other announcements included Monster Cable, who announced a few new products, including iPhone-compatible headphones with additions to its Jamz in-ear headphones line. Netgear also stepped into the spotlight today, introducing new Mac-compatible broadband routers.