27" iMac Shipping Times Slip to Two Weeks Amid Screen Flickering Complaints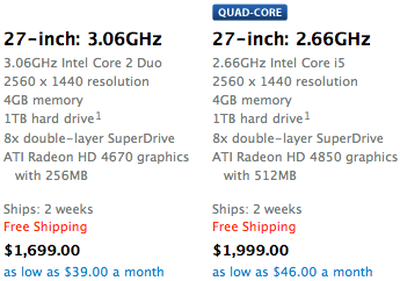 Digital Daily reports
on apparent
widespread screen flickering problems
on Apple's 27" iMac models, coinciding with a slip in shipping times to two weeks for orders placed through Apple's online store. The screen flickering complaints come in addition to
earlier reports
of machines appearing dead on arrivals or with cracked screens right out of the box.
As I write this, there are 82 pages of complaints about the machine on Apple's support site, all from customers who claim the display of their 27-inch iMac flickers or otherwise distorts sporadically (see video below).
It is unclear at this time whether the shipping delays are due to Apple's efforts to address the issues or simply due to
high demand
, as Apple has not officially addressed the reasons for the delay.
Reached for comment, Apple offered little in the way of explanation: "The new iMac has been a huge hit and we are working hard to fulfill orders as quickly as possible," a company spokesperson told me. "We apologize for any inconvenience or delay in delivery this may cause our customers." He did not address issues with the machine's display or reports that they might be responsible for the 2 week shipping delay.
A number of the first 27" iMac machines to begin shipping in late October also reportedly experienced Flash performance issues, although the problems were quickly addressed in Mac OS X 10.6.2.