Chrome for Mac Beta Nearly Matches Safari in JavaScript Benchmarking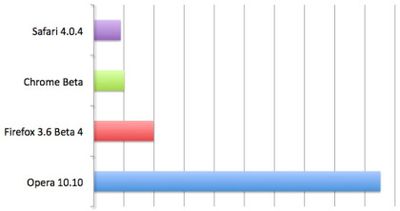 SunSpider JavaScript Benchmarks of Mac Browsers
(Shorter bars represent faster performance)
One of the touted features of Google's Chrome browser, which finally saw the
release
of an official beta version for Mac yesterday, has been its speed in loading and rendering pages. In investigating that aspect of its performance,
Computerworld has found
that, while Chrome performs extremely well in the SunSpider JavaScript benchmarking test, it only comes in a close second to Apple's Safari browser.
According to tests run by Computerworld, the Chrome beta, which Google launched yesterday, is the second fastest of four Mac browsers tested. Chrome renders JavaScript 10 times faster than Opera 10.10 and almost twice as fast as Firefox 3.6 Beta 4, the most recently-released Mac version of Mozilla's open-source browser.
But Chrome can't match Safari 4.0.4's speed: Apple's browser is approximately 12% faster than Google's beta.
This contrasts with the Windows platform, where Computerworld previously found Chrome to be the top performing browser in the same testing suite, clocking in at 30% faster than Safari for Windows.
JavaScript performance has become a key indicator of browser speed in recent years, with Computerworld noting that the release of Firefox's TraceMonkey JavaScript engine last year set the stage for an arms race in JavaScript performance, one that is currently being led by WebKit-based browsers such as Safari and Chrome.