Google Releases Chrome for Mac Beta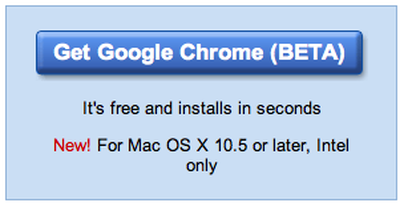 As
anticipated
, Google has finally
released
an official beta version of its Chrome browser for Mac. The initial beta version, termed Build 4.0.249.30, requires Mac OS X Leopard or Snow Leopard, and is only compatible with Intel-based Macs. In addition to the Mac release, Chrome for Linux has also been promoted to a beta version.
While developer builds of Chrome have been available for nearly six months, only now does Google consider it full-featured enough and stable enough to promote to its "Beta" release channel. Work will continue on Chrome with additional Developer Preview releases occurring on a regular basis. Refined versions will then periodically (approximately monthly) be released as new additions to Chrome's Beta channel. Releases will eventually make their way to Chrome's "Stable" channel, which will offer "rock solid" performance without the inclusion of features still under development and testing.
Chrome for Windows launched as a beta version in September 2008, with Google co-founder Sergey Brin admitting only days later that the lack of a Mac version at the time was "embarrassing". At the time, he hoped that a Mac version would be available in only a "matter of months", and the company announced in January that it was targeting a Mac release for the first half of 2009. While developer versions of Chrome did appear within that timeframe, it has taken an additional six months for developers to sufficiently refine it to be considered a beta release for more general consumption.