More Quad-Core iMac Benchmarks Show Substantial Performance Gains
Following up on early benchmarking tests that showed Apple's new quad-core Core i5 and Core i7 iMacs boasting significant performance improvements compared to their Core 2 Duo-based counterparts, Macworld has utilized its own Speedmark suite of real-world tests and found similar results.
Speedmark is Macworld Lab's standard test tool for benchmarking new and upgraded systems running Mac OS X. It uses real-world applications and everyday tasks. It is a general-purpose suite that includes tasks everyone from a high-end user to a new user performs every day.
Macworld Lab follows a detailed script to perform the 17 tasks. Each task is performed three times. We compare the results to a 2.13GHz MacBook with 2GB RAM (Mid 2009), which is assigned a score of 100. We then take the geometric mean of the normalized scores.
Macworld's tests compared the new quad-core iMac models with the base-level Core 2 Duo-based 21.5" and 27" models, as well as the entry-level 2.66 GHz previous-generation 24" iMac, revealing the expected significant performance improvements. Macworld also compared the new models to Apple's latest entry-level quad-core and 8-core Mac Pro models, with both new quad-core iMacs even out-performing the Mac Pro in this real-world battery.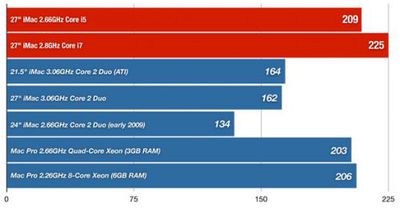 Speedmark 6 Composite Scores
Detailed scores for individual tasks available in article
As
Macworld
notes, the new iMac is an attractive option for even professional users, comparing extremely favorably with the company's latest Mac Pro models.
With the new 2.66GHz Core i5 iMac and the 2.8GHz Core i7 iMac, Apple has not only blurred the line between consumer and professional systems, it's darn near erased it. The 2.66GHz Core i5 iMac offers faster performance at most tasks than the 2.66GHz Quad-Core Mac Pro. The Core i5 iMac also has more memory and more storage space than the 2.66GHz Quad-Core Mac Pro, while being $500 less (plus you get a 27-inch screen with the iMac). Unless you absolutely require additional PCI cards, multiple internal hard drives, or a lot of RAM, the Core i5 iMac makes a strong case for the being the go-to system for most Mac professionals.