Core i7-Based 27" iMac Benchmarks Show Significant Improvements
The delivery of the Core i7-based iMacs have generated the usual discussion threads about unboxing, impressions and benchmarks. The performance of the high-end iMacs have been of particular interest due to the new incorporation of desktop-class processors into Apple's consumer line.
Various Geekbench and Cinebench scores for the new i7 iMacs have been reported. The best visual representation is provided by this blog entry at Timon-Royer.com which compiled the Geekbench scores across all currently shipping iMacs: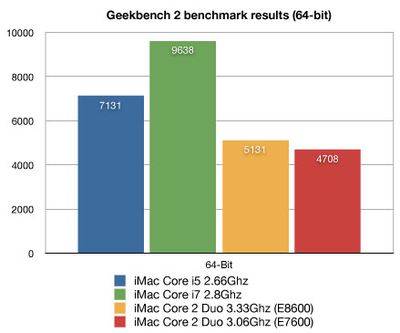 Longer bars are better with the new i7 iMac (green) performing significantly better than the Core 2 Duo 21.5" iMacs. The i7 even represents a sizable (35%) performance increase over the i5 model and costs only $200 more. In fact, the i7 iMac benchmarks
compare favorably
to 2.93Ghz Quad-Core Mac Pro which costs significantly more.
Update: Timon Royer has updated his blog post with a new chart correcting a minor error on the Core i5-based iMac data and adding results for the latest Mac Pro models for comparison purposes.