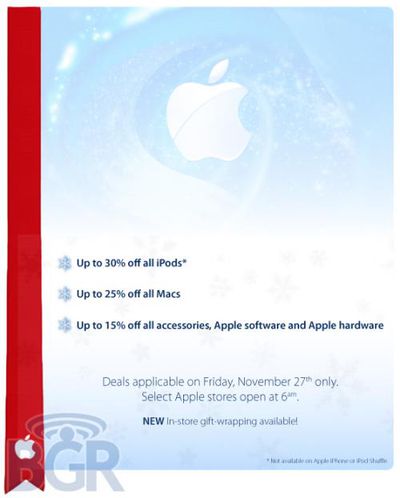 Boy Genius Report notes
that it has received an image that will reportedly soon be sent via e-mail alerting customers to upcoming Black Friday discounts on Apple merchandise. Black Friday, which is always the day after Thanksgiving in the United States and traditionally marks the start of the holiday shopping season with many retailers offering deep discounts, falls on November 27th this year.
This time around, it looks as if Apple will be offering up to 30% off on all iPods (Update: excluding iPhone and iPod shuffle, sorry), up to 25% off Macs, and up to 15% off all accessories as well as Apple software and hardware. The deal is only good for the day of November 27th and if that's not good enough, "select" Apple stores will open at 6AM. This is unconfirmed but it doesn't seem too unrealistic.
Unfortunately, we disagree with Boy Genius Report's assessment that this represents a "realistic" set of Black Friday offerings for Apple. While Apple does participate in Black Friday sales, its discounts have traditionally been much more modest than those suggested in the leaked image, generally only in the neighborhood of 10% and only on select items. Consequently, we are posting this report on Page 2 merely for interest and discussion.