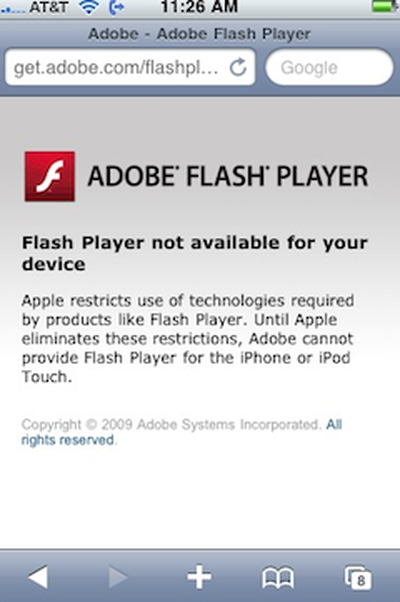 GearDiary reports
on a recent change to Adobe's "Get Flash" download page for Flash Player that appears when visited by iPhone users. iPhone users are linked to the page when attempting to load Flash video and have traditionally been greeted with a simple message informing them that Flash was not available for their platform.
The updated text clearly passes the blame for lack of Flash support on the iPhone to Apple, pointing to Apple's restrictions on the use of such technologies.
Apple restricts use of technologies required by products like Flash Player. Until Apple eliminates these restrictions, Adobe cannot provide Flash Player for the iPhone or iPod Touch.
Adobe recently launched a Flash Player initiative to facilitate the integration of Flash across platforms, including smartphones. Apple, however, was been notably absent from the list of companies participating in the initiative.