Verizon Goes on Offensive Against iPhone Again With 'Droid Does' Teasers
Just weeks after attacking AT&T's 3G network and indirectly the iPhone with a "There's a map for that" ad campaign, Verizon has rolled out a new campaign for a yet-to-be-introduced device from Motorola known as the "Droid", focusing on what it perceives as deficiencies in the iPhone. The new television commercial, introduced yesterday, features iPhone-like fonts and music listing things the iPhone "doesn't do" and ends with a teaser asking users to sign up at DroidDoes.com for more information.
While no official information on the device has been made available,
Boy Genius Report
publishes a brief hands-on preview
of the Droid and calls it "
the
Android device to beat, and easily the most impressive." Google reportedly played a major role in the design of the Droid, "almost dictating every move Motorola made when designing and making the phone."
The Droid runs Android 2.0 with reportedly excellent performance, and offers both a large capacitive touchscreen and a slide-out physical keyboard. The report also notes that it is the thinnest slider phone in memory, only slightly thicker than the iPhone, and that the device will come with a cradle/charging station that turns it into a "multimedia station" while docked.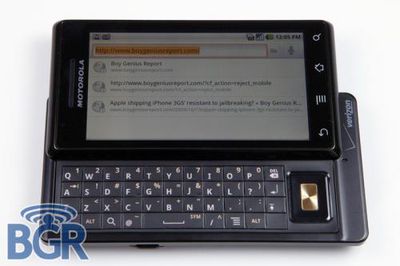 As
The New York Times notes
, Verizon's increasingly aggressive commercials focusing on the iPhone make it hard to believe that the company will begin offering the iPhone any time in the near future, despite the fact that Apple and Verizon have reportedly
been in discussions
about bringing the iPhone to Verizon when AT&T's exclusivity arrangement apparently expires next year.
This nasty name-calling does not bode well for the prospects of the iPhone coming to Verizon in 2010, talks for which were said to have begun earlier this year.
Steve Jobs, Apple's chief, has a notoriously long memory, and Ivan Seidenberg, chief executive of Verizon, must know this. So it seems the companies are settling in to their status as long-term rivals.