Research Firms Offer Conflicting Views of Apple's Second Quarter Mac Shipments
Research firms Gartner and IDC have both released preliminary reports details U.S. and worldwide PC shipments for the second quarter of 2009, and the two firms offer conflicting pictures of Apple's performance during the quarter.
According to Gartner's report, Apple maintained its fourth place ranking for U.S. shipments with an 8.7% market share on unit growth of 2.5% over the year-ago quarter. Apple's market share was up significantly from the previous quarter's 7.4% share and up slightly from 8.4% in the year-ago quarter. The year-over-year increase reverses a trend that saw a slight market share decline between the first quarters of 2008 and 2009.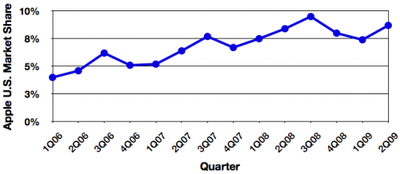 Apple's U.S. Market Share Trend: 1Q06-2Q09 (Gartner)
Overall, Gartner saw a 1.2% decrease in U.S. PC shipments over the year-ago quarter, handily beating the firm's expectation of a 12% decrease. A significant drop by market share leader Dell was offset by continuing tremendous growth from Acer, which has focused its efforts on the netbook and budget notebook segments.


Gartner's Preliminary U.S. PC Vendor Unit Shipment Estimates for 2Q09 (Thousands of Units)
IDC's report
paints a very different picture for Apple, showing the company dropping past Toshiba into fifth place in U.S. market share at 7.6% on unit sales decline of 12.4%. Overall, IDC saw a 3.0% decline in the U.S. market versus the first quarter of 2008.
While Gartner and IDC do typically differ somewhat in their quarterly shipment estimates, the two firms diverge rather significantly in their analyses of Apple's performance for the second quarter of 2009. The reasons for the difference are not yet known at this time, although we can expect to gain a much clearer picture of Apple's performance next week at the company's earnings release and conference call.