Apple Surpasses 2 Billion App Store Downloads
Apple today announced that its App Store has surpassed two billion downloads. The company also noted that there are now over 50 million iPhone and iPod touch customers, 85,000 applications on the App Store, and 125,000 registered iPhone developers.
"The rate of App Store downloads continues to accelerate with users downloading a staggering two billion apps in just over a year, including more than half a billion apps this quarter alone," said Steve Jobs, Apple's CEO. "The App Store has reinvented what you can do with a mobile handheld device, and our users are clearly loving it."
Jobs announced at Apple's "It's Only Rock and Roll" media event earlier this month that the App Store had seen more than 1.8 billion downloads, and clarified that that number does not include updates.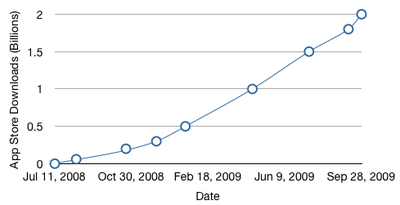 App Store Growth
Finally, Apple reminds users that the App Store is available in 77 countries, with over 20 categories of applications to choose from, and promotes the new ability of iTunes 9 to organize iPhone and iPod touch home screens.