Prototype Mac Pro and Intel PowerBook Spotted
Prototype Apple products have been known to appear on eBay. Late last year, a prototype MacBook Air was found by a member of our forum and in March a prototype iPhone was spotted.
Now, it seems a prototype Mac Pro has been put up for sale on eBay, claiming to be an early 2.4GHz dual Quad-Core processor machine. The machine is said to even be able to run Snow Leopard. Photos of the machine are provided and it does contain a red motherboard typical of Apple's prototype machines: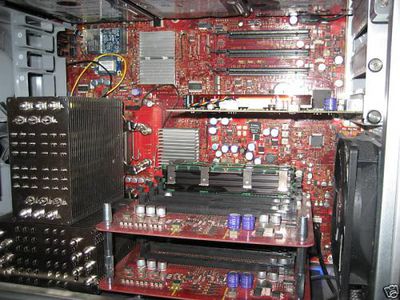 Meanwhile, another interesting prototype machine was
found
by a forum member back in May.
jpo287
purchased a PowerBook that carries an Intel processor and an iSight camera -- features that were never released in a "PowerBook" branded machine. The machine carries a build date of November of 2005 which was two months before the first Intel MacBook Pros
were released
. For whatever reason, this unreleased PowerBook contains a blue motherboard:

More
photos and speculation
can be seen in the original discussion thread.