Original iPhone Prototype Spotted on eBay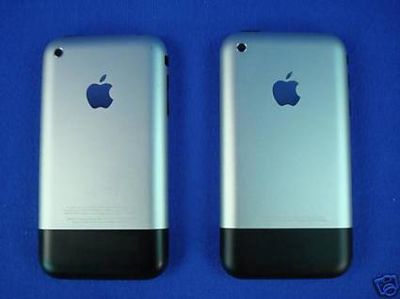 iLounge
points out a
prototype iPhone
recently listed on eBay.
Here is a quite rare and collectable example of iPhone prototypes, one even running a beta OS. Only one of the phones works however. Neither unit says "iPhone" on them anywhere, or list the storage capacity which is interesting. I did some research on the serial numbers, it appears they were both manufactured about 6 months before the release of the iPhone.
Obviously, it is difficult to determine the authenticity of these claims, but the prototype operating system depicted closely resembles the diagnostic screens found on the iPod Touch.

Two prototype iPhones are being sold. Neither have the word "iPhone" written on the back of them. Based on serial numbers, each unit was manufactured in China in late 2006. The iPhone wasn't officially announced until January 2007, and didn't start shipping until June 2007. The working unit runs iPhone OS 03.06.01_G vs the launch version which ran version 03.11.02_G.
Beta units of Apple products have been known to escape Apple's labs before. Recently a prototype MacBook Air was purchased on eBay by a MacRumors forum member.
Update: It seems these prototypes were owned by a MacRumors forum member at one point back in January. Original discussion thread.
Update 2: The eBay auction listing has been removed at the request of Apple.