Apple's Focus on Games: Madden NFL 10, Nova, Assassin's Creed, Riddim Ribbon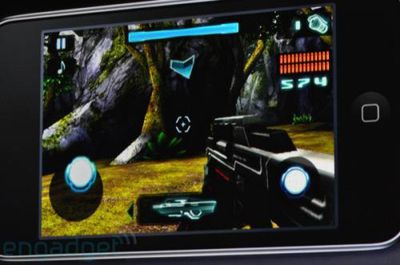 Upcoming Nova, a Halo-like shooter. Photo via Engadget
At today's
"It's Only Rock and Roll"
media event, Apple focused on games for a significant portion of the event. Apple's Phil Schiller even
directly compared
the iPod touch to the Sony PSP and Nintendo DS.
And people are starting to see what a great gaming device this is. When you think about the companies that came before us... when you played those other systems, they seemed so cool, but now when you look at them, they don't stack up against the iPod touch.
Schiller then invited developers on stage to demonstrate some new games that hadn't been seen before.
- Assassin's Creed 2 - simultaneous release with other platforms
- Riddim Ribbon - a racing/music game
- Nova - described as Halo-like first person shooter
- Madden NFL 10 - detailed look and video at TouchArcade
The newly introduced iPod touch also shares the faster processor and improved 3D hardware of the iPhone 3GS, making it even more competitive. While some may doubt that the iPod touch would be a serious threat to dedicated handheld devices, Sony has already
made several steps
to better compete with the iPhone and iPod touch, and has even recruited popular iPhone developers to port their games to their new platform.