App Store Market Worth Nearly $2.5 Billion Per Year?
Mobile advertising firm AdMob has released its July 2009 Mobile Metrics report along with a supplemental presentation in which the company reveals the results of a survey of over 1,100 iPhone, iPod touch, and Android users to obtain data on application usage. The study reveals that iPhone users download approximately 10 applications per month on average with 25% of those being paid applications. iPod touch users download over 18 applications per month on average, with only two of those being paid applications.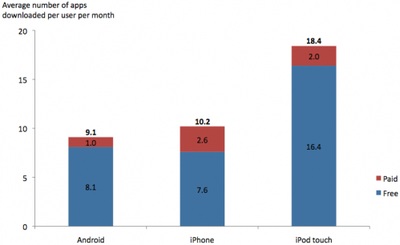 The study also found that approximately 50% of iPhone users download at least one paid application per month, while only 40% of iPod touch users do likewise. Users who do download paid applications average approximately five paid downloads per month and spend an average of $9.49 (iPhone) or $9.79 (iPod touch) per month for an average application price of just under $2.00.
Extrapolating the survey data to the estimated user bases of 26.4 million iPhone users and 18.6 million iPod touch users, AdMob suggests that the total App Store market size may be nearly $200 million per month, or approaching $2.5 billion per year. In contrast, the Android market is estimated at approximately $60 million per year.


AdMob's survey method of soliciting respondents via ads within its own network, which serves 7,000 mobile web sites and 3,000 applications, may skew the survey results somewhat by attracting users more likely to be engaged in mobile applications, but the results do still provide an idea of the substantial market for App Store developers and Apple itself.