Microsoft Attempting to Recruit App Store Developers for Zune HD?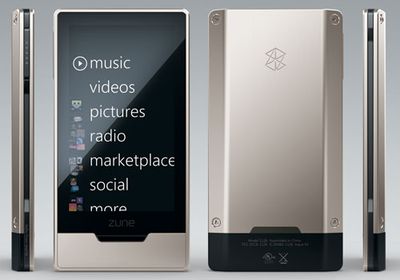 Microsoft may be trying to draw iPhone and iPod touch developers away to develop apps for the Zune platform.
Daring Fireball
's
John Gruber describes
an e-mail he received from an iPhone developer in response to a previous article from Gruber on the Zune HD outlining how Microsoft had offered the developer "a bucket of money" to port his Twitter app to the Zune.
After my post, I got an email from the developer of an iPhone Twitter client. He was contacted by Microsoft a few months ago, with an offer to port his app to the Zune in exchange for "a bucket of money". He turned them down, but assumes, as I do, that Microsoft reached out to the developers of multiple popular iPhone apps.
My source is certain the offer was for the Zune, but because he turned it down early on, he doesn't know the details regarding the OS or SDK. If any other iPhone developers have gotten a similar pitch from Microsoft, I'd love to hear about it.
Officially announced in May, the Zune HD is set to be released on September 15th. It will feature a 3.3-inch OLED touchscreen with multi-touch capability, an integrated HD radio receiver, Wi-Fi, and it will be capable of putting out HD video to a connected HDTV. Coming with either 16 GB or 32 GB of internal storage, the Zune HD will also have a web browser and is poised to compete directly with Apple's iPod touch. The Zune HD, however, will likely be at a distinct disadvantage relative to the iPod touch given the vast offerings of Apple's App Store that increase the iPod touch's functionality well beyond those of standard digital media players.
The Zune HD is available for pre-order from Amazon at $219.99 for the 16 GB model and $289.99 for the 32 GB model, compared to $299 for the 16 GB iPod touch and $399 for the 32 GB iPod touch. Apple, however, is widely expected to update the iPod touch at a keynote event rumored for early September. Gruber has mentioned that he sees Apple releasing new camera-equipped models in 16 GB, 32 GB, and 64 GB capacities at price points of $199, $299, and $399 respectively.