Microsoft Confirms Multi-Touch Zune HD to Compete Against iPod Touch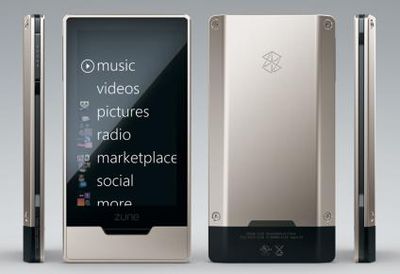 Microsoft confirmed
today that the rumored "Zune HD" was, in fact, real and that they are planning on launching it this fall. The new touch-screen device will surf the web, play high definition movies and tune in digital radio.
"This device is created to go head to head with the iPod Touch," Chris Stephenson, general manager of global marketing for Microsoft Zune, said in a telephone interview on Tuesday. Zune buyers will also be able to play HD content on their TVs via a dock, Microsoft said.
Other notable features in the new media device include a 3.3" multi-touch OLED screen, HD radio, HD video out, Wi-Fi, and integration with Xbox. The device is said to be based on the Windows CE operating system and will include a mobile version of Internet Explorer customized for the touch screen. No word of storage capacities or pricing at this time.
Rumors and photos of such a device were leaked back in April, though there was some debate about its authenticity. Apple has seen tremendous success with the iPod Touch since its introduction with 13 million units sold up until December 2008.