Mac|Life reports that bookstore chain Borders has mentioned an Apple "iPAD" as part of a new online survey targeting its customers. The relevant question asks customers if they are familiar with, have purchased, or are planning to purchase any of a number of "Digital Reading Devices", including Amazon's Kindle, Sony's Digital Reader, and Barnes and Noble's affiliated Plastic Logic Reader. Of most interest to Apple rumor followers, however, is an option asking customers whether they plan to purchase an "Apple iPAD (large screen reading device)" this year.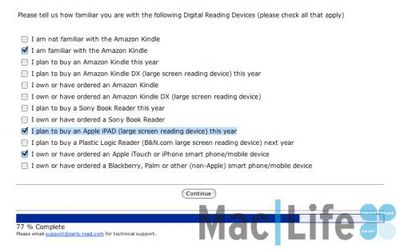 Apple's inclusion of e-books in its App Store and the natural fit of a tablet computer for such offerings have led to
mixed views
on whether Apple has plans to enter the e-book market on its own or continue to rely on third parties for such content. The possibility of third-party content providers being involved in e-book offerings for Apple's hardware opens the door to speculation that Borders could have inside knowledge of Apple's plans for a tablet computer.
Much more likely, however, is that market research staff have simply seized upon circulating rumors regarding Apple's tablet computer and included the device in the survey under a generic name as a result of the publicity surrounding the much-anticipated tablet and the recognition that such a device from Apple will very likely play a significant role in the e-book market upon its release.
Readers will also note several errors in the survey options, including use of the term "iTouch" when referring to the iPod touch and the absence of the medial capital letter in the term "Blackberry". Such errors suggest that the survey's authors may not be particularly well-versed in the market they are addressing, casting further doubt on the "iPAD" claim.