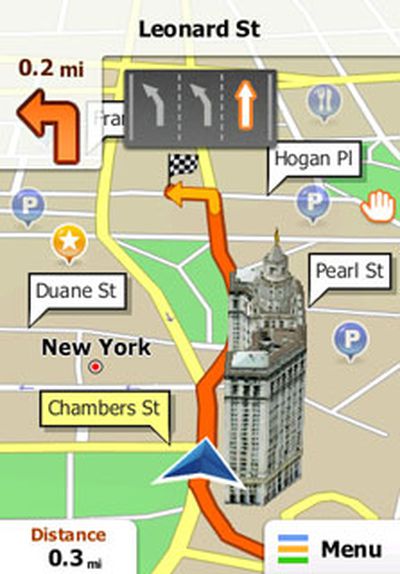 The iGO My Way 2009 turn-by-turn navigation app is now available in the App Store, offering editions for North America, Europe, and Western Europe. The North America app is priced at $79.99, matching the price of Sygics competing app, Mobile Maps, and exceeding Navigon's MobileNavigator app by $10 at its introductory price that's in effect until August 15. iGO's app made one of its first appearances on the iPhone in early 2008, well before the SDK was available.
The iGO app for North America weighs in at 970MB and includes maps for the U.S. and Canada, as does Navigon's MobileNavigator app, while Sygic's North American version also includes Mexico (a U.S.-only version is available for a lower price).
The iGO apps get their map data from Navteq, which is based in Chicago and is a wholly-owned subsidiary of Nokia Corporation. The App Store description states that the app comes with a lifetime license and free quarterly map updates until December 2010. It features 3D maps and offers voice guidance in 4 languages.
You can keep your maps up to date simply by updating the application for free. The product comes with a lifetime license and a FREE subscription to quarterly map updates until December 2010. The application will be updated with enhancements and new features as they become available.
Another major player in the navigation market, TomTom, still has yet to release their navigation app for the iPhone, which was first announced at WWDC in June. The latest information indicates that TomTom's app is still on track for release later this summer, though pricing and an exact release date are still not known.