Apple Updates Time Capsule to 1 TB and 2 TB Capacities [Updated]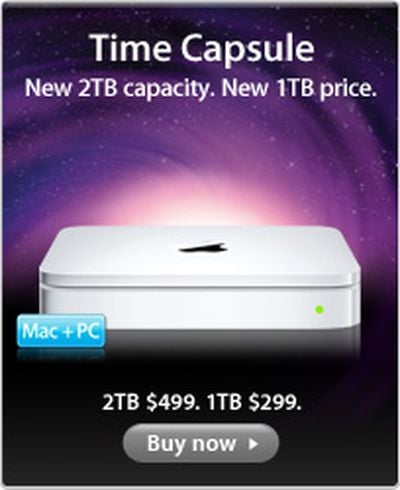 Apple this morning quietly updated its
Time Capsule
combination wireless router and network-attached storage drive to double the models' capacities at the same price points as the previous models: 1 TB for $299 and 2 TB for $499. While Apple's main Time Capsule product page is not yet reflecting the upgraded capacities, the new models are available in the
online Apple Store
, where a small banner ad on the main store page advertises the upgrade. The new models are currently listed as shipping within 24 hours.
Rumors of a 2 TB Time Capsule first surfaced in early April when an image of a 2 TB Time Capsule box appeared on one of retailer ClubMac's product pages.
Update: Apple has now revised its Time Capsule product pages to reflect the updated models. All technical specifications other than storage capacity appear to remain the same as the previous models.