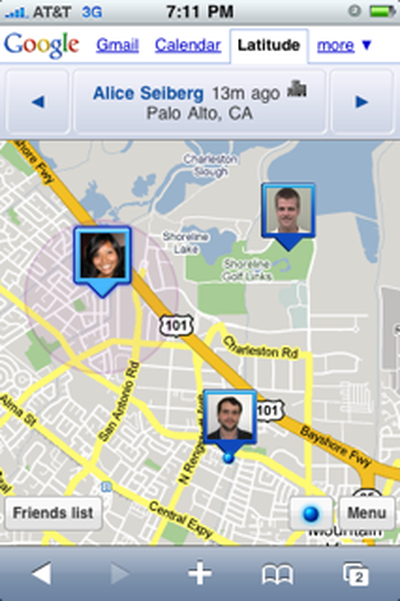 Google today announced that it has launched Google Latitude for the iPhone and iPod touch. Google Latitude, which runs as a web app in Safari, utilizes GPS and Wi-Fi geolocation to display the real-time location of a user's friends and to allow others to track their location. Privacy settings allow users to customize which contacts are permitted to see their location.
To try Google Latitude, type google.com/latitude into your iPhone's browser. And if you miss the experience of launching the app directly from your home screen, you can add a bookmark to the home screen by opening Latitude in Safari and tapping the + icon > Add to Home Screen > Add.
Google also reveals that Apple requested that Latitude be offered as a web app rather than a standalone application in order to reduce confusion with the standard Maps application available on the iPhone.
We worked closely with Apple to bring Latitude to the iPhone in a way Apple thought would be best for iPhone users. After we developed a Latitude application for the iPhone, Apple requested we release Latitude as a web application in order to avoid confusion with Maps on the iPhone, which uses Google to serve maps tiles.
Finally, Google notes that due to Apple's restriction on background applications, Google Latitude is unable to provide continuous location updates as it does on other mobile platforms, although it does automatically refresh locations upon launching and while open.
Google Latitude for the iPhone and iPod touch requires iPhone OS 3.0 and is now available in the US, UK, Canada, Australia, and New Zealand, and it has plans to extend the service to other countries in the near future.