GeForce GTX 285 Appears in Apple Online Store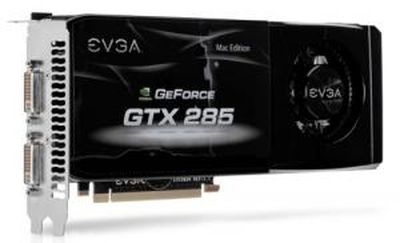 Earlier this week, the EVGA GeForce GTX 285 graphics card appeared in Apple's online stores in the U.S. and Canada. Compatible with the "Early 2008" and "Early 2009" Mac Pro models and currently listed as shipping in 1-2 weeks, the GTX 285 is priced at $449.95 in the U.S. Plans for a June launch of the card were revealed in late April, and the appearance of the card in Apple's store suggests that it should begin shipping within the scheduled timeframe.
Benchmarks on the PC version of the GTX 285 revealed that it consistently outperforms the ATI Radeon HD 4870, which is currently available as a $200 build-to-order upgrade on the 2009 Mac Pro. It remains to be seen if Apple will be adding the GTX 285 as a build-to-order upgrade for new orders once the card begins shipping.