NVIDIA GeForce GTX 285 Mac Version Due in June
Engadget reports that a version of NVIDIA's GeForce GTX 285 graphics card for the Mac Pro will be released in June.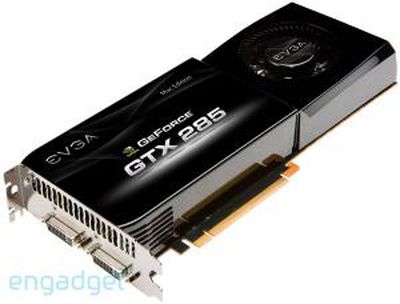 Image from Engadget
The GTX 285 is currently NVIDIA's fastest single-processor GPU, offering 240 processing cores and 1 GB of video memory.
AnandTech
recently reviewed
the PC version of the GTX 285 and found that it consistently outperformed the ATI Radeon HD 4870, whose Mac counterpart is currently available as an upgrade for the Mac Pro.
NVIDIA just last week announced the upcoming Quadro FX 4800, offering a professional-level graphics card option for Mac Pro users at a price point of $1799. The GTX 285, however, should provide a significant performance boost over the current standard-level offerings for the Mac Pro at a price point closer to $400.