Apple Researching Methods for Facilitating Emergency Phone Calls
A patent application entitled Method and system for prolonging emergency calls, filed in December 2007 and disclosed today, reveals that Apple has been researching methods for facilitating emergency phone calls from the iPhone. The scope of Apple's work extends to recognition of when a given call is an emergency call, activation of power-saving measures, use of confirmation buttons and tasks to decrease chances of premature disconnection, and the use of pre-determined "phrase buttons" to enable sending of automated messages and information.
In determining which telephone calls are emergency calls, Apple specifies that certain numbers such as 911 could automatically be categorized as "emergency", while others could be user-defined, such as within a dedicated field in the iPhone's "Contacts" application. Once an emergency call is detected, the iPhone could then implement a series of measures to facilitate the call. In one such measure, an extra step could be required before termination of the call could be permitted.
For example, if the user presses a button to disconnect an emergency call, emergency-mode processor 106 may query the user for confirmation before disconnecting the call. The confirmation may be in the form of a button, a code or password, a verbal acknowledgement, and/or other input by the user. Emergency-mode processor 106 may even disable the user's ability to disconnect the call. As a result, the call may only be disconnected by someone (e.g., an emergency operator) on the other end of the emergency call. Further, the user may select settings to specify the level of difficulty and the methods of disconnecting emergency calls. The user may also select settings for each individual emergency number. For example, the user may disable the ability to disconnect a 911 call while activating a disconnect confirmation in other emergency calls.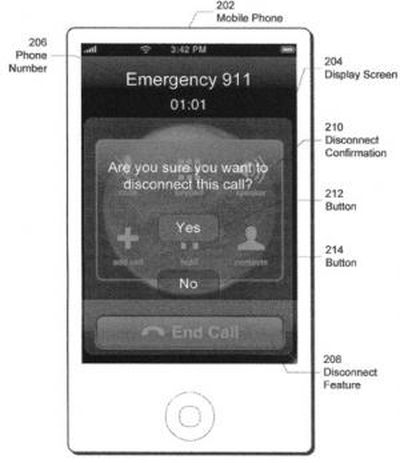 Confirmation buttons for emergency call disconnection
The iPhone's emergency mode could also enact a number of power-saving steps in order to preserve the device's battery life. For example, Apple proposes such actions as dimming the display screen and turning off non-essential hardware components such as Bluetooth, Wi-Fi or camera sensors.
Finally, Apple describes the use of "emergency phrase buttons" that could allow for preset actions in the event that the caller is unable to speak. Apple cites examples of pre-recorded audio files that could be activated to notify 911 dispatchers that the caller is choking, automatic transmission of GPS coordinates, or automated requests to contact a friend or family member.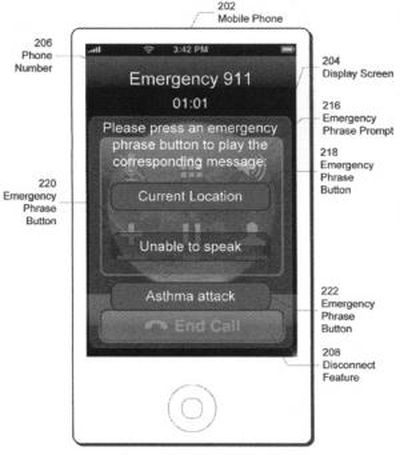 iPhone "emergency phrase buttons"