WWDC 2009 Banners: 'One Year Later, Light-Years Ahead'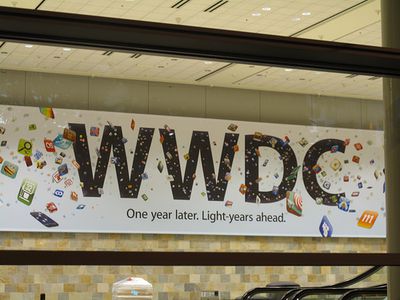 Adam Jackson
has posted the
first photos (flickr)
from WWDC 2009. Apple has started putting up banners 6 days prior to the event. The theme of this year's WWDC appears centered around the App Store. The main banner in Moscone West reads:
One year later. Light-years ahead.
The phrase refers to the iTunes App Store that was launched (less than) one year ago, but has seen major success with over 1 billion apps downloaded in the first nine months. The iPhone will clearly take center stage at WWDC with discussion about the upcoming 3.0 Firmware release as well as possibility that Apple will announce a new iPhone.
WWDC 2009 kicks off on June 8th with a keynote address to be given by Phil Schiller.