Nehalem Mac Pros Arrive: Unboxing and Benchmarks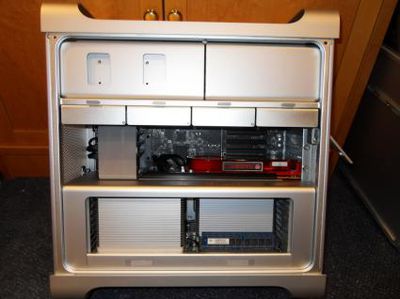 MacRumors forum user
WonderSausage received
his 2009 Nehalem Mac Pro yesterday. The system was configured as a Dual 2.93GHz Quad-Core system with 6GB of RAM and an ATI Radeon HD 4870 card. Additional high quality photos
posted to Flickr
with
commentary
in the discussion thread.
The early GeekBench benchmark for the Nehalem system gave a whopping total score of 17,665, placing it at the very top of the list of all GeekBench 2 scores. The previous #1 placeholder was a Sun Microsystems Sun Fire X4450. This also eclipses the results of the previous top-of-the-line 3.2GHz 8-core Mac Pro which delivers a score as high as 11,030 but with many results in the 9,000 range. As expected, the largest gains in the new systems revolved around multi-threaded functions and memory performance. To give some more perspective on this value, see GeekBench's cumulative table of all Mac performance benchmarks as of January 2009.
Meanwhile, another reader was able to benchmark his Nehalem 2.26GHz Mac Pro which resulted in a Geekbench score of 11226-13113. Again the Nehalem processors excelled at multi-threaded tasks but the raw clock speed of the 2.26GHz processor was slower than the 3.2GHz processor at single-threaded tasks.
This same observation was also seen in Cinebench benchmarks compiled by Tesselator and charted by PowerPaw:

In this example, the new 2.26GHz 8-core Nehalem performed comparably to previous 2.8GHz 8-core processor in multi-threaded tasks, but worse at single threaded tasks. Meanwhile, the multi-core performance of the new 2.93GHz processor significantly outpaced the previous generation machines.
As a result, depending on your work flow (multi-threaded vs single-threaded), it may make more sense to buy a faster Quad-Core than a slower Octo-Core. While some are hoping that Apple's push for multi-threaded support in Snow Leopard may change this equation, developer support and the eventual impact of Grand Central remain unknown.