Unboxing of the Early 2009 NVIDIA iMac, Early Benchmarks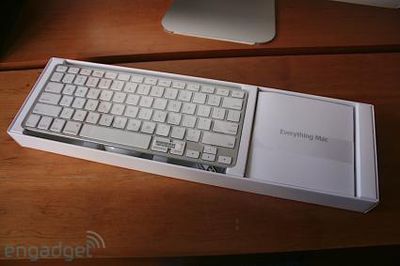 Engadget has
posted
an
unboxing gallery
of the new iMac. Externally, there is not much different in the new machine with the exception the removal of the FireWire 400 port and addition of a mini DisplayPort. The new iMac does come with the keypad-less keyboard (pictured above). MacRumors readers who are waiting on delivery of their new iMacs are
congregating in this thread
.
Meanwhile iFixit has disassembled the iMac completely and provided their usual detailed gallery.
Primate Labs has already posted some benchmarks of the new iMacs and Mac minis. Unsurprisingly they found that processor speed has not improved significantly between the older and the new models:
Processor performance hasnt increased substantially in the latest hardware; the performance increase seems to scale with processor speed. This isnt surprising, since neither the iMac nor the Mac mini moved to a new processor architecture.
Geekbench, however, only measures processor and memory performance and does not measure graphics card performance. The main improvement in these models was a move to an NVIDIA-based architecture with improved integrated graphics. This should improve graphics benchmarks and will also provide additional benefits when Snow Leopard is released.