ATI Radeon HD 4870 Coming Soon For Older Mac Pros, Requires Unreleased OS X 10.5.7 [Updated]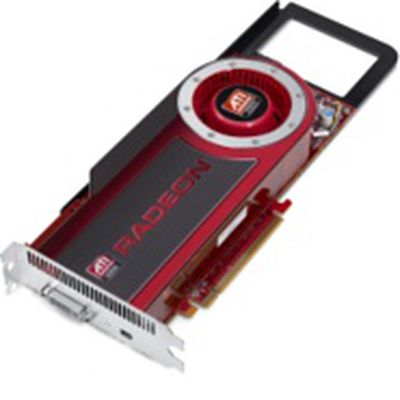 In place of the standard NVIDIA GeForce GT 120 graphics card used on the
new Mac Pro
released this morning, Apple is offering a $200 option to upgrade to the ATI Radeon HD 4870. In addition, Apple is apparently planning to make the ATI card available as a
standalone product
compatible with both the new Mac Pro and the previous generation of Mac Pro released in January 2008. The standalone card is listed as "currently unavailable", and no price is given.
Of some interest is the fact that the standalone Radeon HD 4870 requires a minimum of OS X 10.5.7, which has not yet been released, although versions of it have been seeded to developers. No release date for the 10.5.7 update is known, and the standalone ATI card's lack of an availability date at this time provides no additional information on the timeline for the next version of OS X Leopard.
The Radeon HD 4870 had been promised as "coming soon" for the Mac Pro last August, a promise that is finally being fulfilled.
Apple has in the past made newer graphics cards available for previous-generation Mac Pro products, with the NVIDIA 8800 GT card that had been an upgrade option on the Early 2008 Mac Pro being made available as an upgrade kit for the "1st Generation" Mac Pro, which had been released in August 2006.
Update: The U.S. Apple Store now lists the Radeon HD 4870 as shipping in 5-7 weeks at a price of $349. They have also updated the system requirements to say that the card requires OS X 10.5.6 or later.