Apple Introduces New Mac Pro with Nehalem Xeon Processors
Apple today introduced the new Mac Pro using Intel "Nehalem" Xeon processors and a next-generation system architecture. The new Mac Pro starts at $2,499 and features "the latest graphics technology and an updated interior that makes expansion even easier than before."
"The new Mac Pro is a significant upgrade and starts at $300 less than before," said Philip Schiller, Apple's senior vice president of Worldwide Product Marketing. "The Mac Pro features an advanced system architecture, new faster processors and our best-ever graphics options to deliver a faster, more powerful system that our professional customers are going to love."
The new Mac Pro includes Intel Xeon processors running at speeds up to 2.93 GHz and an integrated memory controller with three channels of 1066 MHz DDR3 ECC memory. Apple claims that this delivers up to 2.4 times the memory bandwidth while cutting memory latency up to 40 percent. Every Mac Pro also comes standard with the NVIDIA GeForce GT 120 with 512MB of GDDR3 memory. An optional ATI Radeon HD 4870 is available for more performance. The new Mac Pro also comes with both a Mini DisplayPort and a DVI port to support the 24-inch Apple LED Cinema Display, the 30-inch Apple Cinema HD Display, or other DVI based displays.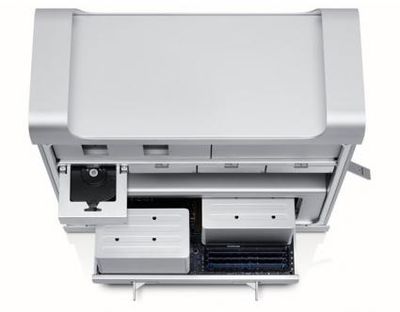 Mac Pro
- $2499. One 2.66GHz Quad-Core Intel Xeon 3500 Processor. 3GB of RAM. NVIDIA GeForce GT 120. 640GB HD.
- $3299. Two 2.26GHz Quad-Core Intel Xeon 5500 Processor. 6GB of RAM. NVIDIA GeForce GT 120. 640GB HD.

---
MacMall is offering $100 rebates on some of the new Mac Pros