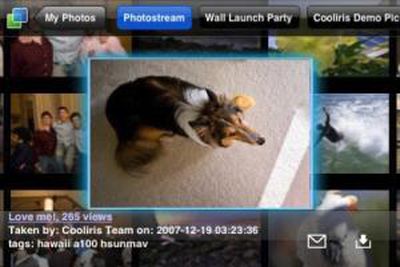 Cooliris
has released version 1.3 [
App Store
] of their free iPhone application for browsing images and video on the Web. Details on the update are available on
Cooliris' blog
.
Version 1.3's biggest new feature is the addition of the "My Photos" tab, where you can search any public account in Flickr and Picasa, add as many accounts as you would like, then view the albums in Cooliris. There are a number of cool ways to enjoy the "My Photos" feature:
- Show off your public Flickr or Picasa photos on the wall
- Use the send function to email your pictures to your friends while you're on the go
- Save pictures from a friend's album to your iPhone
- Set pictures from your Flickr and Picasa albums as your iPhone wallpaper
In addition to the new "My Photos" feature, the update also provides stability and performance enhancements.
Cooliris, which we previously profiled, utilizes a three-dimensional "wall" to display thumbnails of images and videos and takes advantage of the iPhone's multi-touch capabilities for easy browsing. In addition to the iPhone application, Cooliris is also offered as a browser plug-in for Mac and Windows that enables rich browsing experiences for a growing number of supported sites.