Apple Quietly Updates Entry-Level White MacBook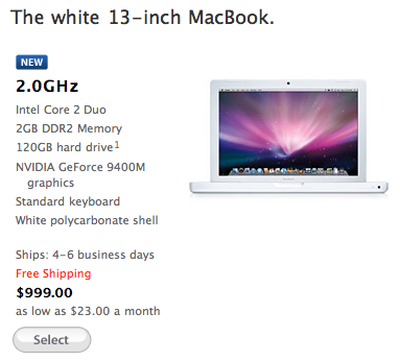 Engadget reports
that Apple has quietly updated the
entry-level white MacBook
, adopting several of the components used in the base aluminum unibody MacBook model.
Engadget
speculates that the upgrade serves to prepare the last member of Apple's notebook line for the addition of
OpenCL
in their upcoming OS X Snow Leopard. Updated specs include:
- Processor moved to 2.0 GHz Core 2 Duo with 1066 MHz frontside bus from 2.1 GHz Core 2 Duo with 866 MHz bus
- Standard RAM increased to 2 GB (two 1 GB sticks) from 1 GB (two 512 MB sticks)
- Graphics switched to NVIDIA 9400M with 256 MB of shared memory from Intel GMA X3100 with 144 MB of shared memory
- Bluetooth version updated to 2.1 from 2.0.
- 320 GB, 5400-rpm hard drive option added
These changes bring the white MacBook much closer in specs to the low-end aluminum MacBook. With the processor and graphics now matching, the $300 premium for the aluminum model primarily offers the new look, faster RAM, a slightly larger standard hard drive, Mini DisplayPort, and no FireWire port.
Pricing remains at $999, with orders currently listed as shipping in 4-6 business days from the US online store. While Apple's Canadian online store is offering the new model, Apple's other international sites and stores have not yet been updated.