Apple Researching Gloves for Use with Multi-Touch Devices
The U.S. Patent & Trademark Office today released a patent application from Apple describing research into gloves that allow the wearer to operate electronic devices. The patent application was filed on June 28th, 2007.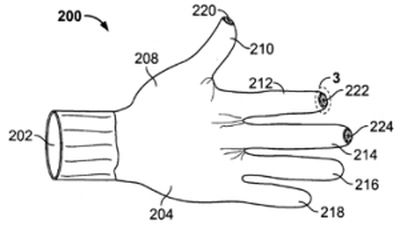 The invention, credited to Ashwin Sunder and Steven Hotelling at Apple, is a cold-weather glove consisting of two layers: a thin inner shell and a heavier outer shell. While Apple clearly intends for the glove to be used in conjunction with Multi-Touch devices such as the iPhone and iPod touch, the patent is written to cover a much broader class of electronic devices.
Apple describes several methods by which the wearer could operate electronic devices while wearing the gloves. One method involves using electrically conductive materials for both the inner and outer shells to allow the signal from the wearer's finger to be transmitted to the input mechanism on the electronic device. Apple acknowledges, however, that the thickness of the outer glove may hinder the tactile response to the wearer. Additional methods include removable caps covering the fingertips, or an elastic ring in the outer shell that would remain nearly closed until pressure from the finger inside the glove forces the ring open and allows the finger to access the device's input mechanism.
While many of the inventions disclosed in Apple's patent applications have yet to appear in commercial products, this application at a minimum demonstrates Apple's awareness of the difficulty of using Multi-Touch devices in cold-weather environments and documents some of their efforts to address the issue. Apple is also certainly not the only vendor to attempt to develop Multi-Touch-compatible gloves, as several other companies, including Dots Gloves, The North Face, and Freehands, have introduced their own solutions.