Apple Advertises 300 Million Apps Downloaded, Over 10,000 Apps in App Store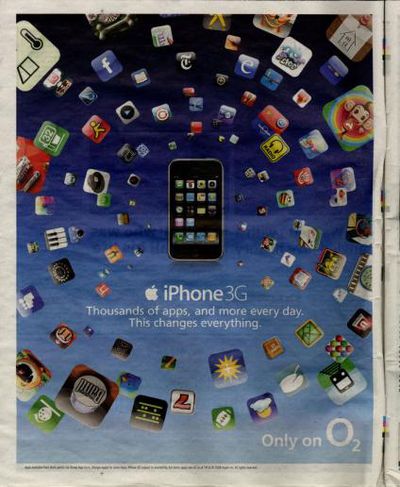 O2 ad
posted to Flickr
Both Apple and O2 have started advertising the App Store in print media today. O2
posted
a copy of this ad which appears in
The Metro
. Meanwhile,
Macworld reports
that Apple has placed ads in
The Wall Street Journal
and the
New York Times
.
In the U.S. print ads (not pictured), Apple reports that 300 million apps have been downloaded and confirms that the App Store now carries over 10,000 applications. The App Store crossed over the 10,000 app point on Wednesday and the current App count is 10,353 apps according to AppShopper.
Apple last reported that they had exceeded 200 million App Store downloads in late October.
Update: Macworld has published a photo of the U.S. ad.