Black Friday 2008: $300 MacBook Pro Discounts, iPhone App Sales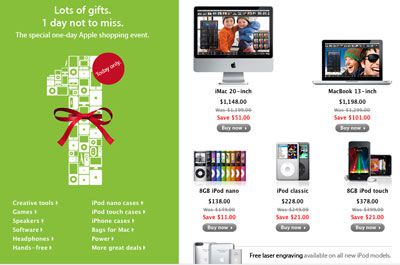 Apple has
officially unveiled
their Black Friday sales for their online and retail stores. The discounts are very similar to
last year's event
. The only two Mac models on sale are the iMac and MacBook with discounts of up to $101 for the mid-to-high-end models. Meanwhile, iPods are seeing $11-$21 discounts and a number of accessories are also on sale.
This also means that analysts were once again wrong after predicting discounts up to 15% from Apple this year. Those looking for more significant Mac discounts will have better luck at 3rd party retailers.
Other Mac Discounts
We've updated our sales chart to include deals from MacConnection which may be the best available for most new Mac purchases. Best Buy's sale ended on Wednesday night and so are no longer available. Best prices are in bold and link to the product. Most involve both instant and mail in rebates.
Retailers: MacMall, MacConnection, Amazon.
Click on prices to link directly to product
Unless otherwise labeled, discounts combine instant + mail-in rebates.
** Is an instant discount, no rebate required.
MacConnection charges sales tax in AL, CT, GA, IL, MA, NJ, NY, NC, OH, PA, TN, TX. MacMall is believed to charge sales tax in MN, CA, IL, TN, WI, and possibly NY. Amazon charges sales tax in KS, KY, NY, ND, and WA.
Mac Software
- Microsoft Office 2008 Special Media Edition - $129.99 (74% off), includes Office 2008 plus Expression Media
- Microsoft Office 2008 Home and Student - $109.99 (27% off)
- $5 off Parallels 4.0 - Run Windows on your Intel Mac.
iPhone/iPod Touch App Store Sales
AppShopper.com continuously tracks new apps and price drops in the App Store. Many apps have been discounted in the past few days in anticipation of the holiday. Some highlights from AppShopper's price change list are summarized here:
- Ambrosia (Now $0.99): Mr. Sudoku, Mondo Solitaire, Aki Mahjong.
- Igloo Games (Now $0.99): Dizzy Bee
- Gameloft ($2 off): Diamond Twister, Brain Challenge, Backgammon Classics, Block Breaker Deluxe 2, Midnight Bowling,
- EA ($2 off): SCRABBLE, Spore Origins, TETRIS
- Pangea (Now $0.99): Cro-Mag Rally, Bugdom 2, Enigmo.
- Free for Limited Time: Fastdial, 2079, Tangram Puzzle Pro, TapToDo, Pathways.
- Others: Classics ($0.99), CameraBag ($0.99), BeejiveIM ($15.99->$9.99)
Full list is available at http://appshopper.com/prices.
Other Retailers
Black Friday sales pages at Amazon, Amazon DVDs, Circuit City, Best Buy.