iTunes 8 Mockup with Grid View, Genius Playlist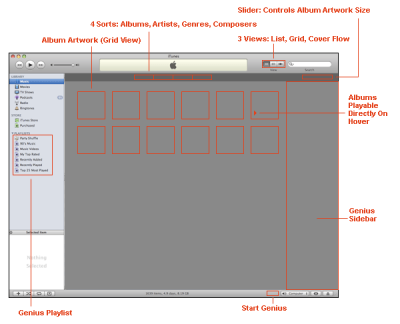 Kevin Rose has posted
a diagram of what he believes iTunes 8 will look like. He diagrams an iPhoto-like grid-view that allows users to view album art. Albums will reportedly be "directly playable" when you hover over the album. Rose is the founder of
Digg
and also has been the source of many of the rumors leading up to tomorrow's event.
Rose also recaps his previous rumors, which include:
- New design for the iPod Nano
- iPod price reductions
- 2.1 software on iPod Touch
- iTunes 8.0: New audio visualization, Genius playlist, Genius sidebar, Grid view
Apple's "Let's Rock" media event will take place on Tuesday, September 9th at 10 a.m. Pacific, 1 p.m. Eastern. We will provide updates and links to live coverage.