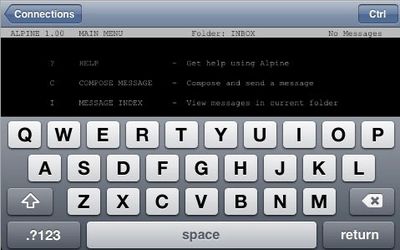 Instant Cocoa has released
pTerm
[$4.99,
App Store
] an SSH, Telnet and raw TCP client for your iPhone or iPod Touch. The application is based on the popular desktop client
PuTTY
.
Features include
- SSH, Telnet, and Raw Socket (TCP) support
- xterm terminal emulation
- 80x24 standard unix terminal window
- Pinch to zoom in the terminal
- Landscape and Portrait modes
- Support for CTRL keys
- Works over Edge, 3G, or WiFi connections
- Entirely based on PuTTY; if the features are in PuTTY, we can proably provide them on the iPhone!
While version 1.0 is in the App Store at present, version 1.1 is already in the queue which fixes two "crashy bugs" and allows full-screen mode via double-tap.
pTerm does support terminal emulation unlike TouchTerm which has also appeared this week.
Meanwhile, the reportedly full-featured SSH client from Zinger-Soft remains in Apple's approval queue and will also be available internationally.
Zinger-Soft has posted a few more screenshots of their App on their website.
[via TheAppleBlog]