iPhone App Store Numbers Reveal Large Revenue Opportunities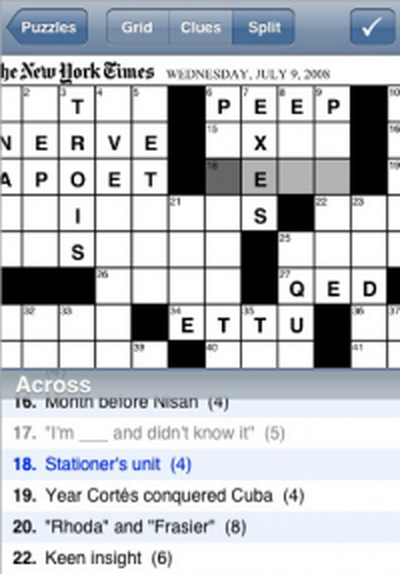 On Thursday, Apple provided iPhone developers with their first look at daily sales numbers. One developer generously shared her sales numbers with 9to5Mac.
Eliza Block is the author of a well reviewed crossword puzzle game called 2 Across [App Store]. To her surprise, the part time developer found that she had earned almost US $1800 on Wednesday alone for her crossword application. Daily stats are only available for the past few days, but the included screenshot reveals 428 sales of her game on July 30th. At an average sales price of $5.99 USD, she earned about $1797.60 that day. Sales figures for the other days available (3 total) were said to be comparable.
Three days of data, of course, is not enough to determine a long term trend, and the sales were likely partially skewed as 2 Across is currently listed amongst Apple's Staff Favorites in the iTunes Store. Also interesting is that Block's app was ranked 39th in the App Store, which means the developers for the 38th most popular app, TapeMeasure [App Store] must have been making over $300/day (428 x $.70) for their $0.99 application.
Now, the sales rate of these apps may not be sustainable depending on how much of their popularity is due to the newness of the App Store. Still, at least one major developer has acknowledged the potential of the App Store. Other Ocean, the developers behind the iPhone version of Sega's Super Monkey Ball, has announced that they have created a specialized iPhone division to dedicate resources for future iPhone development. Super Monkey Ball initially held the top spot amongst paid iPhone apps, but has since dropped to a respectable 7th.