Apple Releases the iPod Touch 2.0 Firmware Update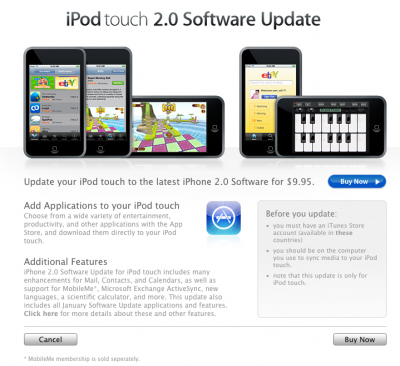 After a long day of waiting, Apple has finally posted the official iPod Touch 2.0 Firmware update. The update is a $9.95 download that is available through the iTunes Store (
link
).
iPhone 2.0 Software Update for iPod touch includes many enhancements for Mail, Contact, and Calendars, as well as support for MobileMe, Microsoft Exchange Active Sync, new languages, a scientific calculator, and more. This update also includes all January Software Update applications and features.
The 2.0 Update also allows the iPod Touch to download and run applications from the App Store. Apple first posted the link to the update at 7:30a.m. EST, but the software only just became available.
Touch owners should visit our iPod touch forums, App Store forum or TouchArcade for App Store game coverage.