New Airport Express with 802.11n Next Week?
We had heard reliable reports that Apple will be launching a new version of their Airport Express next week, likely on Tuesday. Apple Retail stores should have stock of the new Airport Express by mid week. The new model will be priced at the same price as the current model ($99). Though details have not been confirmed, it appears the upgrade will most likely include support for 802.11n wireless networking.
MacGeneration points to an prematurely updated description at the Swiss Apple Store that describes 802.11n Wifi support.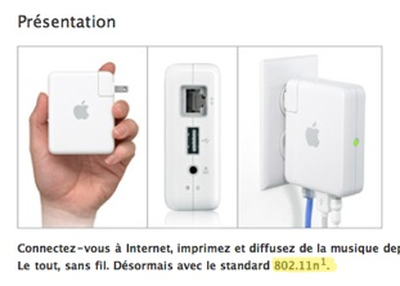 The Airport Express currently supports 802.11b/g networking only. 802.11n
offers
greater performance, more range, and improved reliability over the older Wifi standards. Apple has been
including 802.11n
in their computers since early 2007.
Airport Express allows you to stream your music from iTunes, share a printer wirelessly, and share your internet. More details about Airport Express itself at Apple's site.