Intel Nehalem Processor Details Leaked
DailyTech provides screenshots from Intel slides detailing their upcoming Dunnington and Nehalem architectures.
First, the slides detail Dunnington, a 45nm six-core (three dual-cores) Xeon processor and successor to Tigerton. The Tigerton procesors were launched in September of 2007 and are aimed at very high end servers. Apple has not yet adopted these processors in either its Mac Pro or Xserve line.
More interesting are details of Intel's Nehalem processors which will be the successor to Penryn. While Nehalem is also a 45nm, SSE4, quad-core chip, it will introduce a number of other new technologies. In Nehalem, Intel will replace the front-side bus model with "QuickPath Interconnect" (similar to Hypertransport), add on-die memory controllers, and tri-channel DDR3. All these changes will reportedly increase the available bandwidth to the processor, allowing it to interact with the computer at faster speeds.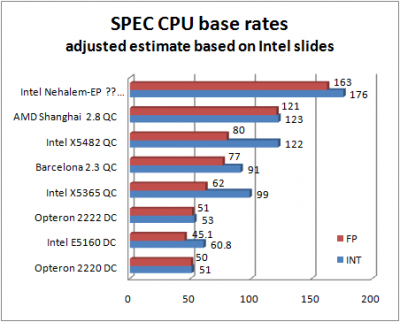 Longer is faster, X5482 is Harpertown processor found in Mac Pro
Based on early estimates, the Nehalem processor is expected to benchmark 144-203% faster than existing Harpertown Xeon processors (X5482).
The Nehalem processor more than doubles the floating point performance of its current Penryn-family processors. Ou adds, "Well most likely know by the end of this year what the actual scores are, but I doubt they will be more than 5% to 10% off from these estimated projections."
The first Nehalem processors are not expected to be launched until Q4 2008.