MacBook Air Unboxing Photos and Wireless Booting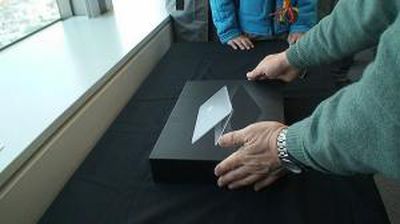 The first unboxing photos for the MacBook Air come from what appears to be a
remote Macworld Expo presentation
in Japan. The pictures show that they received their demonstration MacBook Air in the retail packaging. Unboxing sequence:
1
,
2
,
3
,
4
,
5
.
Meanwhile, Macfixit confirms that the MacBook Air is the first Mac to be able to boot wirelessly.
When Apple introduced the MacBook Air, they detailed a new feature called "Remote Disc" which makes up for the lack of a standard optical drive in the MacBook Air. Remote Disc allows the MacBook Air to wirelessly use a PC or Mac optical drive as if it were its own. Included with this functionality is the ability for the MacBook Air to wirelessly boot off of a Remote Disc shared drive. This means that if your MacBook Air requires an emergency boot or fresh reinstall, it can be done without the $99 external SuperDrive.
This added functionality required changes in the Extensible Firmware Interface (EFI) and is not presently available on other Macs.
The MacBook Air will be shipping to customers in the next two weeks. A discussion thread has been created for readers waiting for their MacBook Air to ship.
Update: We've been told that Mac OS X 10.5.2 will bring wireless booting sharing to all Macs. (Addendum: It seems wireless booting will require a firmware update.)